MARINE CENTRIFUGAL WATER POWER GAS FREE FAN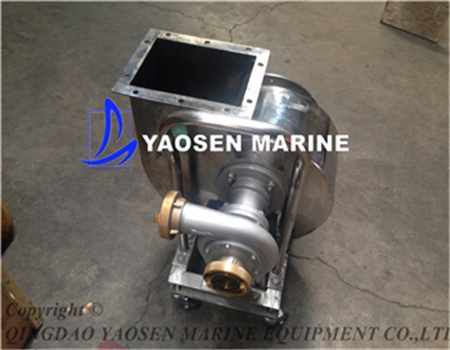 Type CSL centrifugal water power fans for marine use
1. Fan general
CSL series centrifugal fans, this series enjoys high anti-explosive grades and is capable of directly removing or ducting flammable and explosive gaseous mixture or steam as well as those poisonous or harmful gases, being important system equipment for the oil tanker and chemical vessels.
2. Fan structure
CSL series explosion-proof centrifugal ventilator fan enjoys high anti-hazard classification, sound anti-corrosion, anti-wobble, anti-vibration and anti-shock performance. The whole fan is featured in simple and compact structure, low weight, simple operation as well as good move ability driven directly by fire protection water, this ventilator is capable of ducting such dangerous gases as flammable and explosive gases or steam.
CSL ventilator fan is composed of water turbine, frame, casing, rotor, impeller, etc. the water turbine is precisely cast of anticorrosion copper alloy, the casing is soldered of austenitic stainless steel. And the impeller is cast of high strength aluminum alloy, with the whole structure of no-spark design the angles for air-outlet are r90℃for air supply and 225℃ for air exhaust as a result, this type of ventilator can't change the model.
3. Fan applicable conditions
For palaces where there are explosive grade IIB and IIC and group from T4 to T6.
Ambient temperatures: -25℃~55℃
Relative humidity of the air: ≤95%
Cyclical vacillation: ±22.5℃~45℃
Sustained horizontal tilting: ±15℃
Sustained vertical tilting: ±10℃
Vibration: existence
Shock: existence
5. Use and maintenance
5.1 Before installing the fans, should check whether each part is intact, whether the components are complete, whether the impeller and casing rotating direct are concordant.
5.2 When installing the duct of the inlet and outlet, should make the duct and fans be spontaneous identical, not join them forcing, not bring the weight of duct on the fans.
5.3 After installed the fans, check whether there is friction of collide between the impeller and the fixed parts by rotating the impeller. If collision, friction, loud noise or strong vibration happened, the fan should be restart after checking. Avoid the fan being bumped and other substance or liquid entered the fans. Please clean the dust on blade of impeller in time, so as not to break the balance and strengthen the noise.
5.4 The fans maintain must be done on stop working time. When burning, after check, should whether the every part of fans is normal.
5.5 As some fault occurred in fans operating, should find out the reason in time and think a way of resolution.