JCL(CLQ) Marine Centrifugal blower fan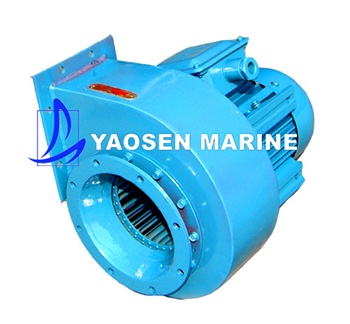 JCL(CLQ) Series Marine Centrifugal Fan
1. PREFACE
  JCL(CLQ)series centrifugal fans for marine or navy use for marine or navy use series fans are designed and manufactured according to the standards of the state for GB11865《Marine Centrifugal Ventilator》,GB11864《Marine Explosion-proof Axial Flow Fans》 《Rules and Regulations for the Construction and Classification of Sea-going Steel Ships》and《Rules and Regulations for the Construction of PLA Naval Ships》.
  This series of ventilators have been examined and proved up to stand by the Register of Shipping of china and have got the certificate. They are also approved by the authority of shipping equipment and research Staff.

2. USES
  JCL and ventilators can carry ordinary air ,sea air containing salt fog and air containing oil fog and other corrosives.
  These ventilators are suitable for ventilation of all kinds of tanks in the naval and merchant ships. They can also be used for partly cooling .They can be used on land , either.
JCL and ventilators can be matched with Y-J three phase naval induction motor or Y-H three phase marine induction motor(50Hz,380V or 60Hz,440V)

3. WORKING CONDITIONS
ambient temperature:-25~55℃
relative humidity of air:≤95%
cyclical oscillation: 22.5~45° (oscillation cycle 5~10s)
sustained horizontal tilting:15°
sustained vertical tilting:10°
vibration: existent
shock: existent.

4. CHARACTERISTICS
JCL(CLQ) type:
small in size ,light in weight
low noise and low vibration
good anti-corrosiveness
good air-tightness
small starting torque
strong resistance against swing, vibration and impact

5.STRUCTURE TYPE
JCL(CLQ) type:
 The ventilator is of horizontal, single-stage and single-drawing type with direct connection for the motor. It can also be constructed into a vertical type with the vane wheel on the motor shaft. The vane wheel is made of riveted aluminum alloy. They have calibrated under both static and dynamic balance. Both the machine casing and the inlet are made of welded common steel with airtight structure. The ventilator can be made for counterclockwise (left)or clockwise(right)rotation, counter clockwise(left)rotation :viewed from the motor side. The vane wheel rotates anti-clockwise and indicated as "L". Clockwise (right)rotation : viewed from the motor side, the vane wheel rotates clockwise and indicated as "R". The outlet position of ventilator, according to the rotating direction of vane wheel, is made into the following main types, In conformity with the requirement, the outlet position is allowed to use other types. the angle of which is 30° or 22.5°.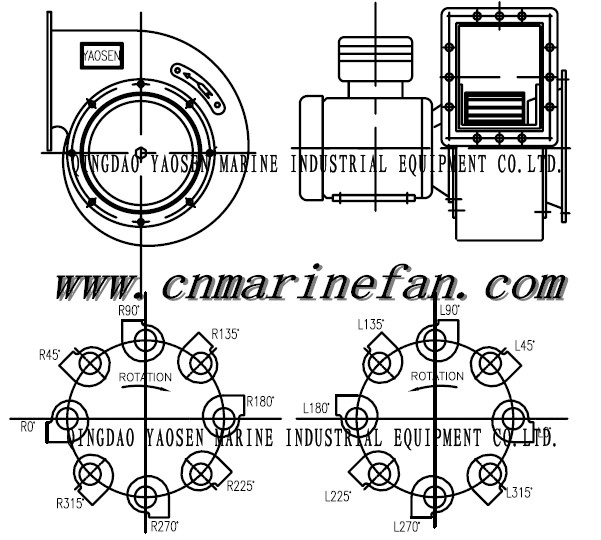 Please contact us and get detailed Technical parameters and Drawings.

We could Design and Produce the Marine fan,Industrial Fan,and Other Ventilation Equipment according to your detailed requirement !